Mazzotti Davide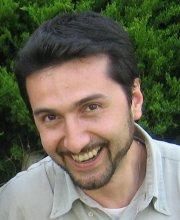 Professional Profile:
Senior Researcher (Employee)
Activity field:
Main office/laboratory:
Sezione Sesto Fiorentino – LENS
Office phone number:
055 457 2500
Laboratory phone number:
055 457 2461
E-mail:

ResearcherID:
D-1071-2010
OrcidID:
0000-0003-2047-1611
ScopusID:
6701869340
Primary activity:
High-sensitivity laser spectroscopy for trace gas sensing. Novel mid-IR coherent sources based on nonlinear crystals and quantum cascade lasers. Metrology with optical frequency combs. Optical cavities. Radiocarbon optical detection
Main experiences acquired:
Optics, laser, molecular spectroscopy, basic electronics, Microsoft Windows and Ubuntu Linux OS, Fortran/C/Python languages
Scientific manager for INO of Funded Projects:
Misura Ottica dell'anidride RadioCarbonica nell'atmosferica del plateau Antartico
Broadband frequency conversion of optical frequency combs
Sorgente di Aggregati per Nuovi Materiali
Research Groups:
Mid ir and thz spectroscopy and applications
Others Funded Projects in which he/she participates:
Progetto integrato per lo sviluppo della Capacità Tecnologica e Operativa della Toscana per l'Utilizzo esteso dello Spazio e più dell'aria.
Sistemi innovativi di misura per la protezione dell'ambiente e della salute
Aerotrazione con BioCarburanti
Nonlinear dynamics of optical frequency combs
Publications, Research Results, now, in INO's database are:
86
  –   Papers JCR/ISI Journals, are:
56
  –   Books or Chapters, are:
13
  –   Papers in Journals not indexed JCR/ISI, are:
2
  –   Conference proceedings, are:
42
  –   Abstract, are:
71
Bibliometric indices are calculated USING ONLY THE INO DATABASE and the number of citations from "WEB OF SCIENCE" (of Thomson Reuters) is updated at
2023-12-03  –   maximum number of citations for an article:
107
  –   maximum impact factor (IF) for a journal when an article is published:
31.241
  –   H-INDEX:
28 
  G-INDEX:
52 
  HC-INDEX (contemporary):
15 
  –   List of
TopTen
papers in citations  –   List of
TopTen
journals in Impact Factor