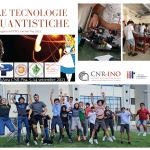 Students learn about quantum technologies at the CNR-INO in Pisa
September 19, 2023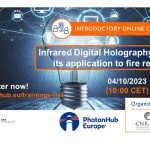 Infrared Digital Olography and its applications to fire rescue
September 27, 2023
On Friday 29 September, the National Institute of Optics of the CNR will participate in the Bright Night events in various Italian cities. There will be activities for people of all ages there, including educational workshops, guided tours, Bright Tech Talks.
Florence
In Piazza SS. Annunziata, at the stand of the Sesto Fiorentino Research Area, it will be possible to meet Maja Colautti, a researcher from the CNR-INO, who will lead visitors through experiments and games to discover surprising light phenomena.
The Bright Night 2023 area, with free entry, open from 5 pm to 11 pm, will host various scientific realities in the city for a night of games and stories related to scientific research. The themes will be many and varied, just as the research carried out at the National Research Council is varied.
For more information visit the website dedicated to events organized in Florence https://www.bright-night.it/2023/cnr-100-la-ricerca-venire-dal-futuro/
Pisa
The Bright Night program in Pisa will begin in the morning with the involvement of high school students and will continue from 4pm at the Pisa Research Area with various initiatives aimed at children and adults. CNR-INO researchers propose various laboratories dedicated to classical cryptography and quantum cryptography, a visit to the Intense Laser Irradiation Laboratory (ILIL) and the Super Laser and observation of the sky with a Schmidt-Cassegrain telescope. Andrea Macchi will speak at the Bright Tech Talk with "Why can't an alien land in Lucca (nor in Pisa)?
For more information visit the website dedicated to events scheduled in Pisa https://nottedeiricercatori.pisa.it/
Naples
As part of STREETS, a European project for the valorization of researchers' night, the CNR-INO headquarters in Naples organized various initiatives around the theme "where cultures meet".
It will be possible to participate in the workshop "The shadow of heat", organized by Alessandra Rocco, Pietro Malara, Gianluca Notariale, Simona Mosca, Maria Parisi, Valentina Di Sarno, Marialuisa Capezzuto.
At the Monte Sant'Angelo University Center, Naples (10:00 – 22:00), the Quantum Creativity Competition will be held, organized by the CNR Institutes: CNR-INO (Simona Mosca, Maria Parisi), CNR-ISASI (Antigone, Marino) in collaboration with the Department of Physics "E. Pancini", Federico II University (Loredana Parlato, Mikkel Jrnaes, Giovanni Ausanio) and as part of the Italian Quantum Weeks project in collaboration with World Quantum Day.
For more information, visit the website with all the events that will take place in Naples: https://www.nottedeiricercatori-streets.it/wp/