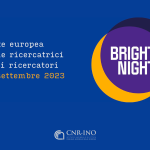 Bright Night – Notte Europea dei ricercatori 2023
Settembre 25, 2023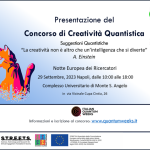 Concorso di Creatività Quantistica alla Notte Europea dei Ricercatori
Settembre 28, 2023
CNR-INO organises a free Online Training on Infrared Digital Olography and its applications to fire rescue.
The training will be held on October 4th, 2023 by our Researchers dr. Massimiliano Locatelli and dr. Eugenio Pugliese.
They will explain how the capability of imaging a scene through smoke and flames is a highly desirable goal due to its potential application in the field of fire rescue. Vision in such impaired conditions would let rescuers move safely in a fire scenario and would help them in identifying/individuating human being or things hidden behind smoke and flames. Unfortunately, current visible and thermal imaging systems cannot see either through smoke or through flames.
The solution proposed to this critical issue is IR Digital Holography, a technique developed in their laboratories and which is now mature enough to reach the market.
The training is organised in the framework of the project PhotonHub Europe.
PhotonHub has received funding from the European Union's Horizon 2020 research and innovation programme under the Grant Agreement n. 101016665, in Public Private Partnership with Photonics21.